Vertical Form Fill Seal Knife
Inconsistent lifespan - existing blades failing after as little as one day
Fast wearing teeth = poor cut
Frequent downtime for knife changes
Fernite were recently approached by a large processor and distributor of frozen fruit and vegetables. 
The business were looking to improve the inconsistent performance of their packaging machine knives – which were failing to cut the required volume of bags due to fast wear.
Fast-wearing blades were not only costing money in replacement parts, but also in lost production hours while the machine was out of service.
The customer was expecting a knife which consistently cut through 35,000 bags per day for a period of two weeks.
The company were looking for an improvement in performance which could deliver a reduction in costs by eliminating the need to constantly change out failing knives.
Fernite developed a new knife based on the customer's requirement for longer lifespan and greater consistency. The project focused on these three areas of improvement.
Improved tooth pitch accuracy
Fernite's precision grinding technology was able to produce a uniform tooth pitch for a more accurate cut.
This avoids product damage and metal-to-metal contact which can damage the teeth.
Fernite's technical team recommended a stainless steel grade which can achieve a higher hardness while retaining toughness.
This material improved the strength of the blade and the wear resistance of the teeth. 
A specialist wear resistant hardened coating was added to extend the lifespan of the knife, and protect the sharpness of the teeth for longer. 
Fernite's knife consistently outperformed the competitor's product.
Whereas the previous knife had lasted as little as one day, Fernite's knife lasted consistently for two weeks.
Considerable savings have been achieved with machine run times increasing and performance improving. 
Despite the superior quality of the Fernite knife, costs were comparable with their previous supply. 
Average lifespan:
Fernite Knife vs Competitor Knife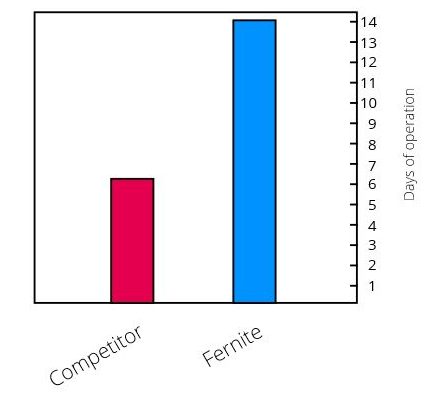 Fernite's Blade Development Service
Fernite specialise in developing solutions to cutting problems.
Knives may be a small component but they are critical to the success of your production line. 
There are many factors which can affect the performance of a knife. Our highly qualified technical team consider every aspect of the cutting process to develop a bespoke knife which meets each customer's exact requirements. 
A custom Fernite knife can help you achieve greater efficiencies, reduce scrap, cut downtime and maintenance time, and of course increase output, sales and profit. 
An ISO9001 certified company, Fernite ensure a high quality product and service every time.
To find out more about developing a new knife with us, please call Nick Wright on +44 (0)114 244 0527.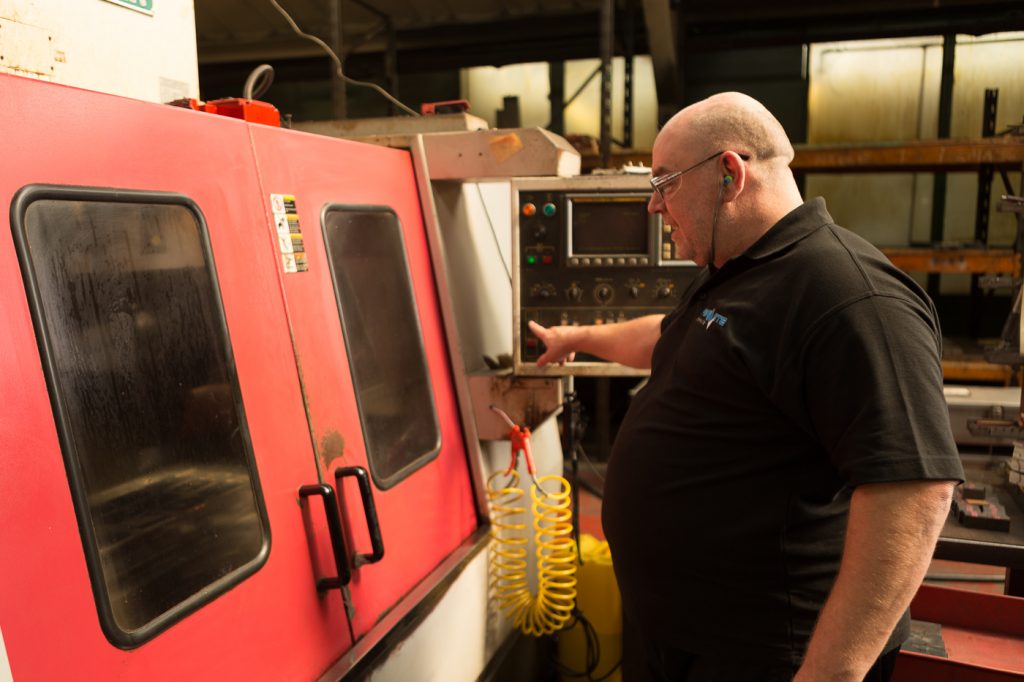 Fernite's expert team utilise the very latest advanced technology to develop high performance custom knives.