Long-lasting scraper blades for a wide range of applications
Fernite of Sheffield is an ISO9001 certified UK Scraper Blade manufacturer.
Our Fernite scraper blades UK are manufactured in our own ISO9001 certified Sheffield factory. To manufacture our blades we only ever use top quality, accredited European steels. Therefore, you can rely on us to keep your machines running to their optimum level.
High quality, long-lasting, scraper blades UK cut with absolute precision. Thus, your machines can produce efficiently with minimum downtime. For nearly two hundred years, Fernite of Sheffield has built its reputation as a world-class manufacturer of finest quality machine blades, knives and cutters. As a result, we have seen our bespoke scraper blades used in rotary moulders, refiners and drum dryer machines across several continents.
Everyone in our team is committed using advanced manufacturing technologies to deliver the optimum results to every Fernite customer. Whether you need a standard specification or bespoke products, our experts can advise on, design, manufacture, deliver and even install the exact scraper blades that you need. Indeed, the Fernite White Diamond Guarantee gives our customers the confidence that only the best will do.
Flexibility on required scraper blade delivery with a short delivery time 
All too often in our industry lead times are far too long, a factor which can put your production continuity and profitability at risk. Because we manufacture all of our products in-house and have exceptional control over quality and production, therefore we control the capacity to maintain excellent stock levels. Thus bringing reassurance to our customers for every order. If you need scraper blades UK in double-quick time, we'll get them to you fast!
At Fernite, we see ourselves as far more than a supplier of machine cutters, blades and knives. We form enduring partnerships with our customers who look to us for information, ideas and advice on maximising machine performance productivity and we're here to help whenever you need us.
Contact us with your enquiry
Steel Grades

Fernite only utilise the highest quality, fully traceable stainless steels from the world's finest mills. Our most popular grade for freezer blades is AISI 420 (1.4034) but we can also offer grade 410 (1.4024) if required.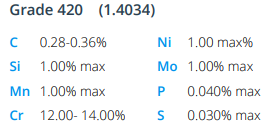 Customer Benefits
Superior grade of stainless steel for high performance and longer life.


Chip and shatter resistant.


Manufactured to exacting tolerances and customer specification.


Reliable supply from an ISO 9001 certified UK manufacturer.



Precision ground edges with exceptional straightness.


Polished finish available.

Suitable for industrial and artisan ice cream manufacturing processes.