High Performance Strand Pelletizer Blades
Also known as helical pelletizer blades or rotors, these high performance strand pelletizer blades are critical to the strand pelletizing process.

We manufacture and supply strand pelletizer blades to OEM specification, to suit customers' exact requirements.

We can offer a variety of sizes, materials, bevel angles, holes and slots.

We only utilise the highest quality steels and the very latest advanced manufacturing technology, ensuring our blades convert each strand into pellets free of sprues, tails and imperfections.
Our team of experienced machinists are here to sharpen your Strand pelletizer blades.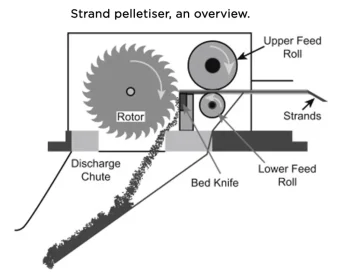 Pelletizer blades with precision ground edges
We manufacture every blade in our ISO9001 certified UK factory, ensuring we maintain full control of the entire manufacturing process from start to finish.
This ensures we can maintain the highest quality standards while offering competitive prices to our customers.

Please consider more options for pelletizer knives at Fernite.
Buy with confidence from an award-winning UK ISO 9001 manufacturer
Fernite of Sheffield – an award-winning knives and blades manufacturer. We supply the world's leading brands with knives which extend production runs, cut costs and deliver more sales with higher profits.
We can supply large quantities of blades on short lead times.
Alternatively you can fill out our online form or email enquiries@fernite.co.uk.
Fernite of Sheffield are renowned across the world for outstanding reliability, value, service and support.