Precise and durable drum dryer blades
Fernite have the ability to accommodate the largest of machines, up to 6m in length.
Drum Dryer Blade Benefits
Exceptional straightness

Chip and shatter resistant

High performance and long life

Precision ground constant edges

Long blades suit any machinery
Drum Dryer Blade Custom Options
Wide range of bevel angles

Various shapes and dimensions

Custom number of holes and slots

Long Drum Dryer Blades available

Any quantity of blades available
Drum Dryer blades require a consistent, perfectly straight edge to ensure even scraping across the surface of the drum. Fernite manufacture drum dryer blades with higher precision in our ISO9001 certified purpose built factory on the outskirts of Sheffield, UK.
With decades of knowledge and expertise, Fernite have the capability to manufacture to a wide range of OEM specifications, plus we have the knowledge and ability to create bespoke blades.
We deliver accurate and highly durable scraper blades which support continuous production and higher plant efficiency.
To ensure the best performance from each knife, Fernite use only the highest quality steels available, and manufacture drum dryer blades using the very latest precision grinding technology to ensure a consistent edge every time.
Whether the blade is being used to produce powders, cereal products, starches and pulps, or other dried foods, Fernite will work closely with you to deliver blades which suit your exact requirements. For usage in the food industry, where water is present in the production process, or for processing salts or corrosive materials, we recommend to use stainless steel.
Long drum dryer blade life for significant long-term savings.

As with every Fernite product, our drum dryer blades are built to perform, to last and of course, every drum dryer blade is manufactured exclusively at our own Sheffield premises.
Our Sheffield factory is ISO 9001 certified – the internationally recognised sign of assured quality. Fernite continuously invest in both our technology and our team, ensuring we are always producing to the very highest standards in quality and efficiency.
By manufacturing every blade in our own UK factory, we retain control over the entire production process, which is why we deliver quickly and directly.
Partner with a responsive, reliable partner.
Do you have problems finding high quality, robust and long-lasting steel blades? Perhaps you need a blade that's perfectly tailored for your machines? If so, please give us a call. We are always happy to help.
We produce drum dryer blades manufactured exactly to your specifications, with friendly, reliable service.

Contact us with your enquiry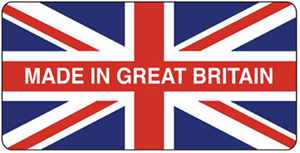 Made in Sheffield, UK
High quality 420 Stainless Steel or Carbon Steel, sourced and fully traceable from European suppliers.  
Maximise your sales and profit with Fernite of Sheffield.
Our blades help to increase production run times, whilst avoiding costly damage to machinery.